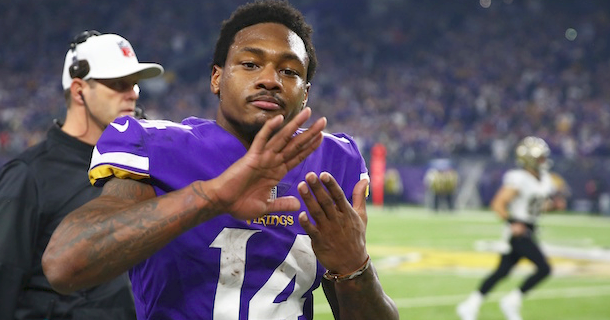 Stefon Diggs is usually larger than life, putting on a public face of inner confidence. On Tuesday, after signing a five-year contract extension with the Minnesota Vikings that averages $14.4 million per season, he was a mixture of smiles and tears.
Standing at the podium next to the practice fields of Twin Cities Orthopedics Performance Center, Diggs opened his press conference sharing a story that clearly meant the world to him.
"My dad sat me down a couple months before he passed away and he just told me to look after your brothers, look after your mom, and basically look after your family," Diggs said, fighting back the tears and wave of emotion. "And that meant a lot to me. But with the day going forward it just came full circle and I have a lot of emotions, if you can understand a little bit. For it to come all the way around, I'm happy that I can look at my mom and smile and tell her that everything is going to be okay."
When Diggs knew that contract talks were being bridged toward a resolution, he called his mom, Stephanie, and told her to get on a plane to Minnesota. There she was, roaming the sidelines of the practice fields with Diggs' agent, Adisa Bakari, while Diggs practiced just before the team made it official with his signing.
"My family is a little different; everybody holds their own. My mom holds her own so I'm going to have to make her do something for once, but it allows me to give her a little relief as a mom," Diggs said. "She worked really hard. She worked on the train for almost 30 years and she supported four boys. It's a lot of men in my family. I kind of stepped into the leadership role as a father figure. I have two younger brothers, as you all know, and for me it was huge to tell her that she don't have to do it anymore. It's going to be okay and say, 'I got it' once. I got it from now on."
Diggs earned his lucrative extension, despite being a fifth-round draft pick. General manager Rick Spielman said he knew Diggs could be better than his draft position, but he has continued to see the work ethic on the practice field even when the contract talks were underway. There was no holdout and no public threat of a holdout, just working to improve.
"I was talking to his mother and how proud she should be, not because of what he does on the field. That's secondary," Spielman said. "It's how your son has grown as a man. And how many people look up to him and how many kids look up to these guys and they set great examples."
The deal that went down in pen on Tuesday has Diggs under contract until through the 2023 season. He has wanted to stay in Minnesota since the Vikings took a chance on him in the fifth round, despite his feeling that he should have been selected much sooner.
"It was a rough day for me. I felt like I had talent, but I'm not a complainer. I felt like I was going to go when I was going to go. I was happy when I did get chosen," he said.
"It was a bumpy road that day and I just remember getting a call and they gave me a chance. They believed in me and they won, and going forward they pushed me to be where I am now."
Head coach Mike Zimmer said Diggs' draft status never mattered to him. The talent and willingness to hone it did.
"When guys get here on this football field, we see numbers, we don't see draft rounds. We see numbers and how they work," Zimmer said.
As for his dad, Diggs believes his big contract fulfills the promise that he made.
"It's kind of weird, because at this point I kind of did everything he told me to do. If he was next to me, I'd just be like, 'Are you happy now?' I don't know," Diggs said. "It's kind of like one of those things where he's not here, it probably drove me even more because I knew he wasn't here. I know, hopefully, he's watching down and he's happy. I don't know what dads do in proud moments; my dad was a tough guy. Hopefully he can at least smile."
So can his son, even if he was fighting back tears in moments of pride.